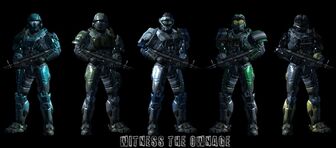 The Captain Rock-Claimers are often described as one of the most defense-based clan ever. They formed in March of 2010 with the goal of eliminating the MOA.
While names of specific members of the Captain Rock-Claimers remains unknown, it is known that their objective was to defeat the MOA and put an end to their record of perfection. While unsuccessful in doing so and losing very decisively, they were able to become a pretty successful clan, defeating clans such as they once legendary Whisper Claws and having the bravery to challenge the Demos. 
Recently, they are believed to have an alliance with the Neo-Dragons who is known to be a very offense-based clan.
The Captain Rock-Claimers are described as having a strategy built around outlasting the opponent and draining their patience. They will stay in two groups of four and wait for their opponent in a hallway or high area and then ambush them. The strategy has proven very successful against clans such as the Whisper Claws due to them being snipers. This strategy fell vastly short against the Demos who are known for lightning-fast reflexes and adaptive characteristics.
Related Pages
Edit